Frequently asked questions
What is AirPods 1-Week Direct Battery Replacement Service?
---
Our AirPods 1-week Battery Replacement service replaces the old battery on your Apple AirPods Generation 1 and Generation 2 with new batteries. The entire process including collection and return shipping takes roughly 1 week inclusive of the day we receive your AirPods if the time is before 2PM on the first day.
When we received your AirPods, we will verify the authenticity of your AirPods before replacement. The batteries we used are similar to the performance of the original battery. The price for this service is an affordable price of NTD$1399, with is an additonal charge of NTD$75 for shipping respectively.
The picture below roughly describes the process. This service is available only in Taiwan for the moment. If you are interested in this service for customers in Singapore, please send us an email to info@dr-pods.com and we will keep you up to date when the direct battery replacement service becomes available.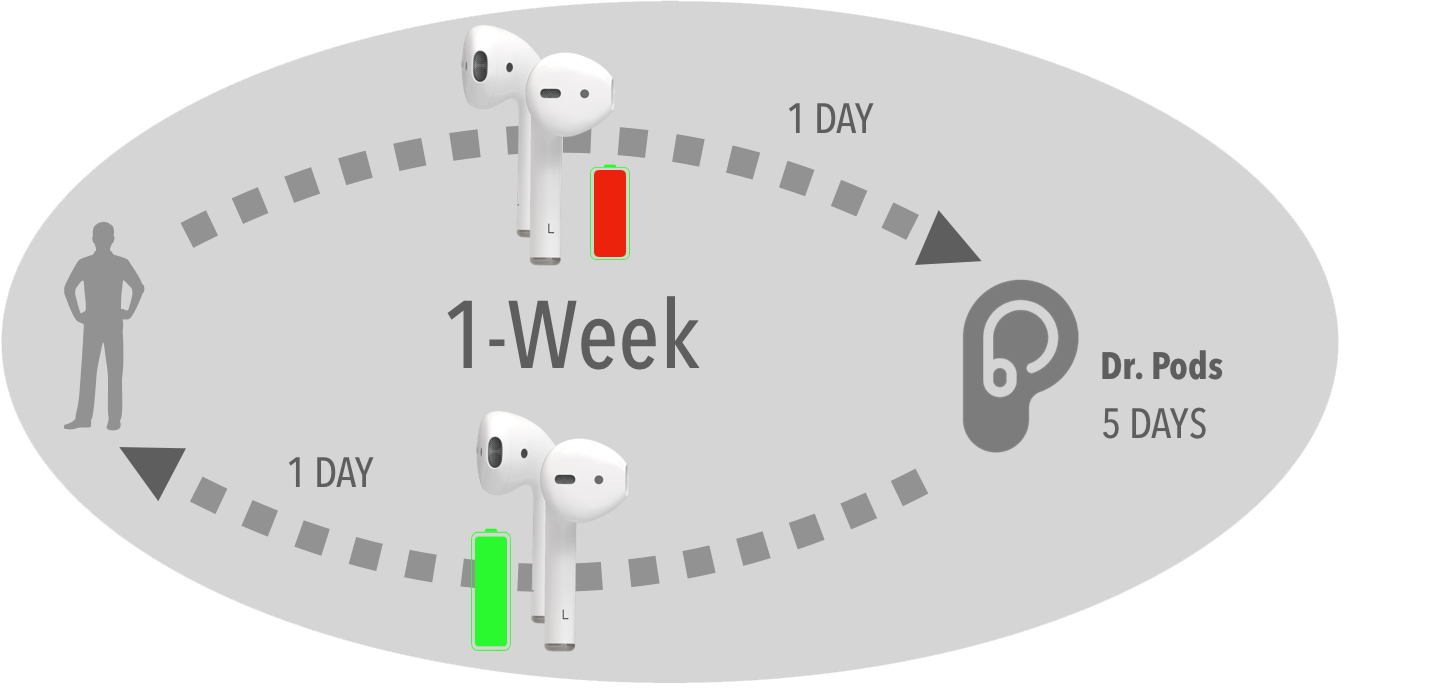 ---
What is AirPods Instant Exchange Battery Replacement Service?
---
AirPods Instant Exchange Battery Replacement takes your pair of AirPods with old batteries in exchange for a pair of similar AirPods with new batteries that we have replaced prior to exchange so that you can enjoy instant service without waiting for the standard 1-week turnaround.
This service is suitable for customers who may not want to wait for 1 week offered by our standard battery replacement service. The cost of AirPods Instant Exchange Battery Service is NTD$1399, SG$69 with an additional charge of NTD$75, SG$3.60 for shipping.
For Instant Exchange service, Dr. Pods will clean refurbished AirPods to remove dirt and organic debris using brush and micro-removal techniques including high pressure suction before finishing off with a thorough wipe-down using medical grade solution. The AirPods are then subjected to low-temperature sterilization including Ozone oxidation and UV-C radiation before being packed into "No-touch" packages before shipping. The AirPods that you receive are cleaned and sterilized for your protection.
---
Can you really replace Apple AirPods batteries? It is well known that AirPods batteries cannot be replaced.
---
Yes, the batteries can be replaced and we perform the replacement using high quality batteries using specialized equipment. The result is a pair of AirPods with newly replaced batteries that looks and performs just like the day you bought it. We are proud to bring this service to you and do our bit for the environment.
---
What is the performance of the replacement batteries? How does that compared to Apple original batteries?
---
The batteries we use are similar in performance to your original ones from Apple. We have performed independent and thorough test using specialized battery diagnostic equipment to determine that these batteries are similar in performance in battery life and life span as Apple's original batteries.
---
Does Dr. Pods service come with warranty? How do I claim warranty?
---
Yes, we provide 90-days new batteries warranty against defects and workmanship. If you find your AirPods has battery related issues like short use time, please contact us using the form in the "Contact Us" section and we will be happy to help you and replace with new batteries without additional cost.
---
Will the appearance of the AirPods be same after battery replacement? Will there be any damage to the surfaces of the AirPods?
---
Your AirPods will look exactly the same as your original one. We process each AirPod carefully to ensure the AirPods surface will not be damaged. If you find that your AirPods been damaged, please contact us. We will be happy to replace a refurbished piece/s at our cost.
For Instant Exchange customers, the AirPods you receive will be free from any deep scratches, nicks, marks and discolorations. Fine scratches that can be seen at 15cm distance may be present and reflective of pre-owned AirPods that we use and have replaced the batteries prior.
---
Can I replace battery on one side of my AirPods?
---
Yes, this is available for customers in Taiwan and Singapore. Please contact us for information or select single side when placing your order online. Please select either left or right side. However, we recommend replacing the batteries for both sides at the same time. From our experience, we found when there is battery issue occurring on one side, the battery on the other side will face similar issue in due course.
The main reason reason why battery performance deteriorate is due to frequent recharging and discharging. Unless you use only one side most of the time for calls or listening to music etc, batteries performance deteroriation will roughly occur in a similar timeframe, although battery life may be slightly different.
*Direct battery replacement of your AirPods is available only in Taiwan at this moment. Direct battery replacement is when Dr Pods receives your AirPods and replaces the batteries of your AirPods and return the same AirPods to you.
---
Can you replace battery for AirPods Pro?
---
We are replacing batteries for Apple AirPods Generation 1 and Generation 2 at this moment. If you are interested in receiving battery replacement service for AirPods Pro, please send us a note to indicate your interest and we will be happy to get back to you when we have such a service.
---
My AirPods has Bluetooth intermittent disconnection issue? Will that be fixed after I replace with a new battery?
---
Generally yes. Deteriorate batteries that have been charged and discharged numerous times beyond its capabilities may experience sudden voltage fluctuations. This will lead to Bluetooth connection dropping while you are using.
When we install new batteries to your AirPods, all these Bluetooth instability issues due to battery voltage fluctuation will cease. But we can not guarantee all Bluetooth issues are related to deteriorated batteries and can be fixed.
---
Can you fix other AirPods issues?
---
No, we are unable to fix other AirPods issues, like audio cracking or AirPods that have experienced water damage.
---
How do I determine the battery condition on the AirPods and decide if it is time to replace the battery?
---
Here is a simple test. Play music for 5 minutes with volume turned to 65% and compare the performance against the table below.
---
Is frequent or intermittent disconnection with iPhone or an Andriod phone, intermittent audio and/or microphone performance caused by deteriorated batteries?
---
Here is a method to determine if the frequent and/or intermittent disconnection of bluetooth, audio or microphone is caused by deteriorated batteries
Step 1: Keep your AirPods in the charging case with lid open.
Step 2:

Disable Automatic Ear Detection as shown in the screen below. The toggle switch should be greyed out to indicate that it has been disabled.

Step 3: Keep the lid open and the AirPods inside the charging case (do not remove the AirPods inside the charging case). Make a phone call or play music and determine if disconnection continues to happen. If disconnection does not happen, this means that deteriorated batteries are the most likely cause of your issues and your AirPods are suitable for battery replacement

How does the test work?

The rationale for this test is to determine if the issue occurs when the AirPods are powered by the charging case. When the AirPods are in the charging case, it is no longer powered by the internal AirPods battery but by the charging case. Hence, if none of your AirPods issues occur, then it's likely an issue with the AirPods battery www.dr-pods.com/diagnostics
---
My AirPods are unable to pair with my iPhone or Android phone. What are the causes?
---
There are various reasons which can be determined by the LED status. Please check the LED status in the charging case and compare this to the table below for an explanation. Not all issues can be determine by LED status.
---
How do I read the serial number of my AirPods?
---
https://support.apple.com/en-us/HT209371
---
How do I read the battery charge of my AirPods?
---
https://support.apple.com/en-us/HT207012
---
What happens when I mix Generation 1 and Generation 2 AirPods?
---
Generation 1 and Generation 2 AirPods are not designed to mixed together or used together as a set. When such an event occurs, the screen below will be displayed. Simply replace one side to match the correct AirPods required.
---
My AirPods have a serial number of 1? Do these AirPods qualify for instant exchange or repair?
---
Yes, AirPods with serial number 1 are replacement units that you will receive when you replace existing AirPods direct from Apple or their authorized service providers. You may have previously claimed warranty from defects or replaced them under AppleCare programs.

However serial numbers are not the sole authentication method we used. We are able to determine if your AirPods are authentic using a multi-step method of verifying. Similarly some of the AirPods that we replaced the battery may also have serial numbers with #1. Do not be alarm if you do not see serial number in the AirPods bluetooth settings. Go to Setting> General> About> AirPods. The serial number 1 is shown on this screen.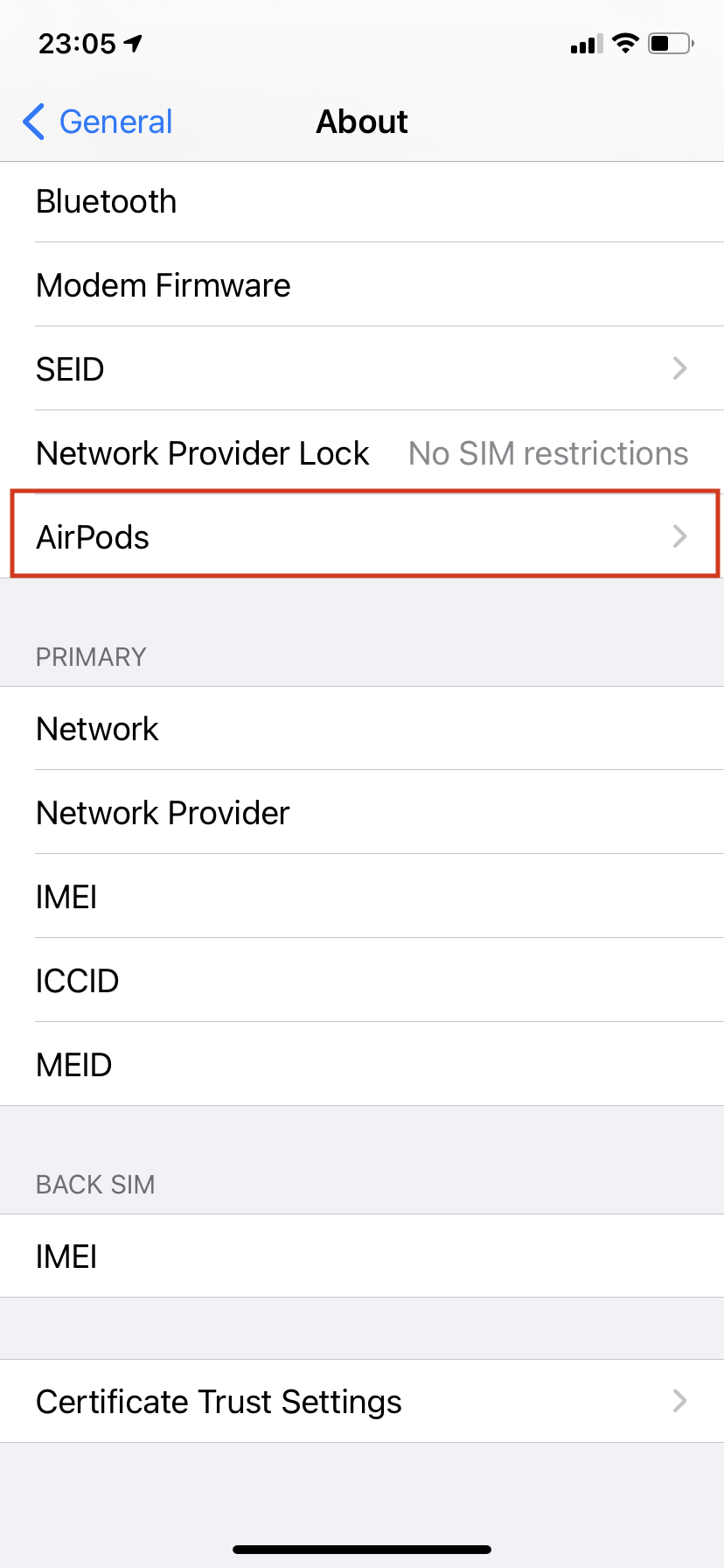 ---
I just received my replacement AirPods with new batteries. How do I setup for use?
---
Thank you and congratulations on exchanging your Apple AirPods for a pair with new batteries. By doing so, you saved a little of our planet.
Before you proceed to use your Apple AirPods with new batteries, please do the following:

Place Apple AirPods with new batteries into your charging case. The LED light of the case should flash orange. If it flashes white, proceed to step 3

Hold the setup button down for 15-30 seconds until the LED light flashes white.*

On your iPhone, goto the Home screen.

Open the lid of the case with your AirPods inside and hold it next to your iPhone. A setup animation will appear on your iPhone.

Tap Connect, then tap Done to complete
Your AirPods may have low battery when you first receive it as it may have lost power during shipping and transit. Simply charge your AirPods as usual. For assistance, please contact us at customer_service@dr-pods.com * If the status light continues to flashes amber, connect the case to a power source, close the lid, and wait for 20 minutes. Then open the lid and press and hold the setup button again for 15-30 seconds until the status light flashes white.
---
---